Welcome to the Macoupin County Clerk's Election Office website.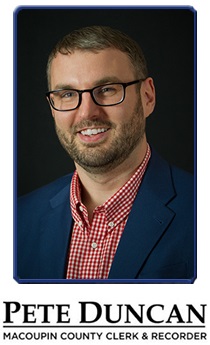 As the Election Authority for Macoupin County, I believe strongly that every voter should have all the information necessary to exercise his or her right to vote. I am proud to offer these resources on our Election's Office website. Here you can find out information such as how to register to vote, where your polling place is located, or how you can vote early or on Election Day. We've included a variety of frequently asked questions to try and help ensure every voter's voice is heard. We also have created a variety of how-to' guides for features of the website for you to use.
If you have any other questions, please feel free to call my office at (217) 854-3214 or email me at [email protected]. And remember, every vote counts.

Have A Question? We Have Answers
Have an election question you wanted answered? You can fill out the form below and receive an email response, email [email protected], or call (217) 854-3214 ext. 918. We will get you an answer as soon as we can.
Helpful Links
Illinois State Board of Elections Website
Macoupin County Clerk's Website
Macoupin County Government Website