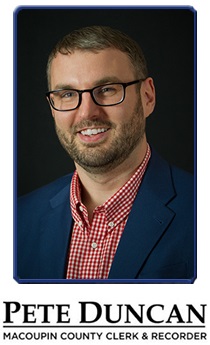 Elected in 2010, Pete Duncan is the 27th County Clerk of Macoupin County. Duncan has worked to provide a more efficient and effective office while having the smallest number of employees in the office since at least 1948. He has also been a tireless advocate for more open and transparent government by increasing information online. For example, he single-handedly put online over 40 years of County Board minutes, resolutions and ordinances for the first time. Duncan, sworn in at age 24, is the youngest county elected official in Macoupin history and one of the youngest county officials in the history of Illinois. He was named one of the Top 25 Under 45 Young Leaders in Macoupin County in 2011 by the Macoupin Economic Development Partnership.
About The County Clerk's Office

The County Clerk's office has six main roles
Chief Election Authority for the County – The County Clerk administers all Federal, State and County elections. The Clerk is responsible for registering voters, preparing the ballots, training election judges, securing polling places and all other election related duties.
Vital Records. The Clerk's office is the depository for vital records, including birth, death and marriage records occurring in Macoupin County.
Tax Extensions and Delinquent Taxes – Accepts the filing of the annual budgets, levies, financial reports and boundary changes of all taxing bodies and calculates the tax rates and extensions for each unit of government. The Clerk also attends the annual tax sale, collects all delinquent and forfeited taxes, and is responsible for reimbursing the tax buyers and reporting their percentage income to the Internal Revenue Service.
Manager of Payroll and Accounts Payable – The Clerk oversees the payroll and insurance of all County employees and also manages the accounts payable and billable.
Recorder of Deeds – Records all documents and records related to land/structure transactions on properties located in Macoupin County.
Clerk to the County Board – The Clerk handles filing all matters to be brought before the Board, notifying all Board members of meetings, preparing and publishing the minutes of the Board meetings and keeping accurate files of Board minutes.